Description
Offering three distinct configurations, allowing the user to choose which works best for their riding needs, the new XD4 is similar in appearance to the previous XD3, but greatly improved in all-around performance. The combination of the new comfort headliner, with microfitting 5mm peel-away temple pads, and our patent-pending FCS® cheek pad design, also with 5mm peel away layers, add a new dimension to the concept of helmet fit and customization. It takes a unique sense of commitment to continually strive to improve your product – especially when it's already regarded as the very best.
Arai is the only company offering multiple interior-fit shapes to better address the infinite variety of riders' head shapes and sizes.
No one pays more attention to the subtle variations and infinite possibilities of the human head shape than Arai. Why? Because it's the secret to getting the best comfort and fit.
So for more than three decades, Arai has pioneered different shapes – and even different proportions within those shapes – in our various helmet models, working to offer a better fit for more people.
The XD4 has Arai's INTERMEDIATE OVAL (IO) interior fit shape.*
*A Helmet needs to be tried on in order to determine a proper fit.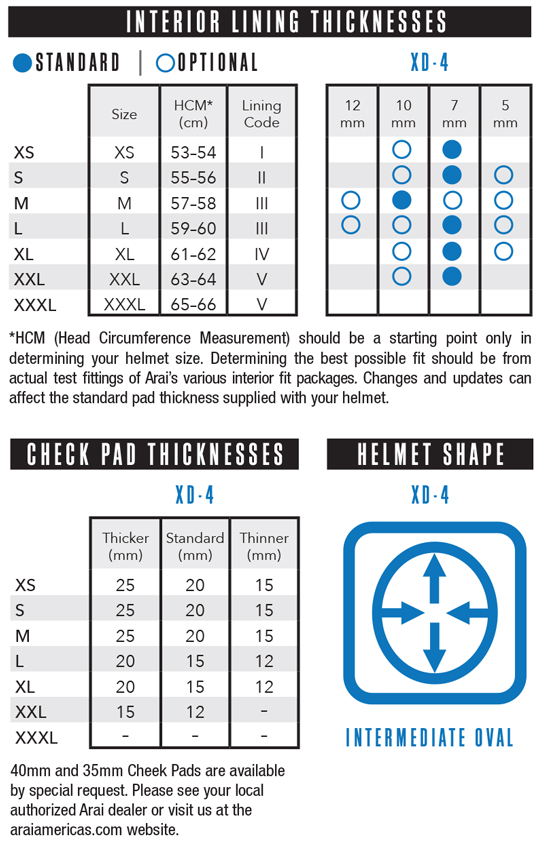 Go Configure
The XD-4 offers three distinct confi gurations depending on rider preference or riding conditions. Change the look every time you ride — or even during the same ride.